Decimal Suite features efficiently manage your budget, excluding possible budgeting pitfalls as planning errors, losing expertise when an employee leaves, inability to monitor cost reduction initiatives, to monitor variances or to provide relevant and timely information.


Consolidates data in a centralized database providing simultaneous access to several users;
Enables all managers and authorized users to enter budget data directly while keeping track of changes made;
Defines each user's specific profile, security profile and access to information;
Creates scenarios based on calculation rules at different levels (account, type of account or specific parameter);
Establishes budget expenses based on volumetrics;
Organizes data according to needs (chart of account, administrative units, etc.);
Produces dynamic reports and provides features that enable users to easily calculate variances, make multidimensional tables and drill-down as far as detailed calculations of account forecasts;
Reports can be viewed on-screen, printed or exported to other systems, including spreadsheet programs such as Microsoft® Office Excel;
Contains fields for entering and/or attaching justificatory and/or explanatory notes and files;
Tracks organizational changes;
Where required, accepts more details than are normal in a budget item.

Planning and Budgeting brochure


Many data sets and the variances between them can be displayed at any one time. The information may be presented by type of expenditure, by classifying the type of expenditure (to recreate the structure of your financial statements), by cost centre and by hierarchical structure.  Managers can choose whether or not to display certain columns and also to change the order of appearance, meaning they have access to the information they need in the format they want in order to finish their budget.


The following example shows a number of data sets (actual/forecast, current budget, proposed budget, requested budget) and the variances between them for the Finance department's IT costs.


For each account, managers can use one of the following three methods to budget their monthly revenues and expenses:


Allocate their monthly expenses themselves
Enter their annual expenses and leave it to the system to allocate them according to the number of business days per month
Use one or more of the expense allocation tables suggested by Finance. There is no limit to the number of allocation tables that can be created.
Sample allocation tables: Apply the First quarter allocation table to an account: the initial amount entered by the managers is allocated to the relevant months in accordance with the table's parameters.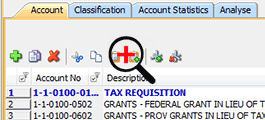 Sometimes, certain accounts are the result of adding accounts with specific characteristics, such as a grant account, or an administrative expenses account, with a percentage of expenses per cost centre. The application automatically calculates these accounts to limit user activity following any number of changes to other accounts. These calculations can also be based on quantities and statistics, which can be integrated into the application.


Making batch changes to accounts


Users can add or remove revenue or expenses in batches according to various selection criteria. For example, you could increase energy account expenses by 2%, but only for the period from 4 to 7.



Account details


Managers can budget at the account level or, if desired, provide a lot more details which are automatically transferred to the account level. This makes it easier for managers to justify account expenses as "other expenses." In fact, the Finance department can require managers to enter the details of one or more specific accounts. In other words, they will be required to detail the "other expenses" (but not the other accounts).


In the Details section, users can enter as many lines as required to clearly explain the account content. The Quantity and Unit Cost fields can be used to calculate the Amount field. By using the Details section, managers can avoid resorting to an external spreadsheet. This makes budget entry faster and avoids potential transcription errors.


The screenshot (below) shows account details. Managers can enter the details in the lower section; the total for each period is automatically entered into the upper section.
 
Notes


Users can provide further account details by entering notes or attaching any number of files; there is no restriction on the format or type of files that can be attached.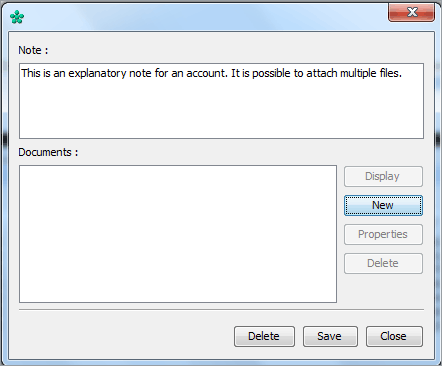 Attributes


Each account can be characterized by several alphanumeric attributes. These can be used for documentation purposes; they also enable users to analyze information from different angles, by applying filters and presenting information in reports.


In the example (below), we have broken down the account number into its components but we could have chosen to enter text instead of numbers as we did in the Attribute 9 column.


Analysis


Users can create their own ad hoc analysis reports.


The following sample report gives the annual result of cross-tabulating two attributes: the department number and the characterization of expense type.